RELAUNCH COMING SOON
As some of you may heard the sad news, because we got hacked and because of legal and billing issues we had to take down My beloved website for a bit. The good news is we are in the process of revamping everything and My site is going to come back bigger and better than ever with a whole bunch of new awesome functions, videos and the best of the fine fetish photography you've come to expect from Me! We are slating to relaunch by XXXmas and I don't think anyone will be prepared for how awesome the site is going to be!
Members will have access to all of our original photosets featuring the Revenge Krew models, and of course Bella herself! We'll also be adding VIDEO! I know everyone's been asking for it for so long now and we'll finally have sexy videos up on the site! From live burlesque performances, to candid behind the scenes footage from shoots and even hardcore POV videos! We'll also be adding LIVE cam shows for our members, as well as forums, interviews and the return of the monthly written erotica column! I absolutely cannot WAIT to have it unveiled for all of you. But, it's a lot of work and I don't want to leave you all without some quality smut!
Please consider supporting Me by clicking these links and buying a membership to one of the following sites that I am featured on:
I have been a model for Burning Angel Entertainment for eight years! I have over 20 photosets on their sites, as well as AVN award winning DVD's and hardcore scenes. Cum on tattoos, threesomes and hot girl on girl action. This site is the ONLY site where you can find Me fucking famous male pornstars! I also blog there regularly and do cam shows in the members section
Julie Simone is an award winning fetish pornographer and fellow Pro Domme that I work with pretty regularly. This site is the ONLY site where you can find Me in strict bondage and slaving out to gorgeous women. I have multiple photos and videos here and love letting Mistress Julie do things to Me that I wouldn't let anyone else do.
If you'd rather see Me as a Domme this is the site to find multiple beautiful female slaves doing as they are told by Me. I have lots of videos here and have hardcore g/g fetish scenes available here where I only appear as a Domme.
I have been shooting with photographer Bob Coulter for nearly a decade, we've made A LOT of smut together! He's photographed Me fucking donuts, smoking, getting naked with other pornstars and naked in various sketchy hotels all over NYC. He's got hundreds of well known pornstars on his site and his style of photography is one of MY favorites.
I've been a model on EroticBPM since 2003 and this is a GREAT alt site with lots of different models and a great community aspect to it. I also participate in members chats all the time, really truly love this site.
Two of the innovators of the alt porn genre Amelia G and Forest Black have created a whole family of sites that celebrate the sexual counter culture, with thousands of photos and video. I appear on multiple websites in this network such as BlueBloog.com, Gothicsluts.com and Barelyevil.com. Amelia and Forest also have a knack for photographing Me getting naked in public places such as arcades, amusement parks and on The Ramones gravestones.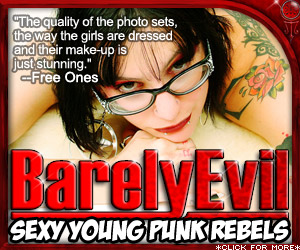 Barely Evil Bella Vendetta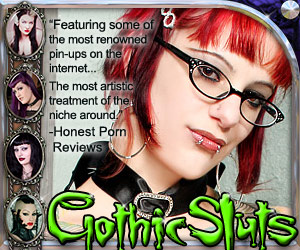 Gothic Sluts Bella Vendetta
Photographer Ellen Stagg is one of My most favorite photographers to work with. This NYC based pinup, fine art and erotica photographer has shot some of My very favorite softcore photos of Me. This site has photosets of Me solo as well as g/g sets of Me with a few of My favorite women, as well as behind the scenes videos of shoots.
This site is run by one of My most favorite pornographer's, FurryGirl. It is a whole site dedicated to strapon play. Here you can see photos of Me with My strapon, as well as My first ever Double Penetration film with Jiz Lee and Syd Blakovich.
You can also do a real time professional Domination session with Me at the dungeon. If you are interested in slave training with Me or booking a fetish session PLEASE READ THIS first!
You can also catch me LIVE on cam! If you're interested in seeing Me on cam you can catch Me some weekdays here: www.BellaVendetta.cammodels.com If you are interested in doing a cam show with me PLEASE READ THIS first!
I am also now taking your phone calls! I LOVE doing filthy talk, fetish chats and more! You can even call Me if you want Me to tell you a bedtime story. You can find out some info on how to call me, as well as how you can purchase some of my personal effects and DVDs.
There's also other ways to connect with Me on a more personal level. You can keep up with what's going on with Me by reading My blog. I post photos of food porn, write about My life at the dungeon, on porn sets and at metal shows. I also post about any events I am doing or appearances I will be making.
You can also follow Me on twitter where I post about what I'm eating, how cute My chihuahuas are and when I shave my pussy
If you love Me so much and want to see some new content of Me but don't want to wait for the site, consider purchasing a gift from My Amazon Wishlist. I always send thank you gifts, generally in the form of naked photos.